VCF 85 N
VCF 85 N is a compact and affordable clean-out unit that works at a speed of 1.2 m per minute. It uses gum designed to handle N95-VCF violet chemistry-free plates.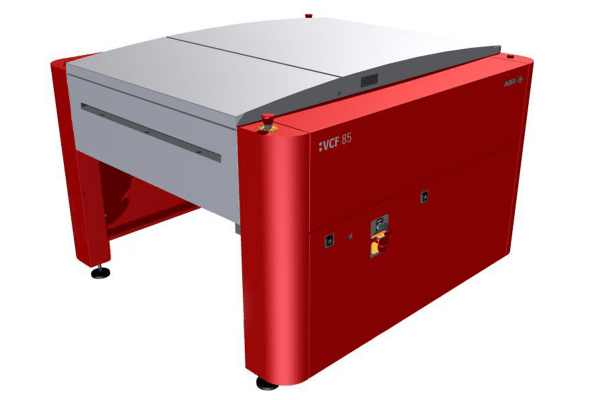 Reduce your system cleaning time and eliminate classic processing chemicals. How? By using the affordable VCF 85 N. Your violet chemistry-free plates are cleaned out with more efficiency than ever before. Quick and clean: important for newspaper printers looking to streamline, simplify and reduce costs.
Chemistry-free operation increases the green credentials of any newspaper printer keen on minimizing its environmental impact.
Small footprint
Compact design;
Minimal operation cost;
Easy to clean;
Easy to install;
State-of-the-art user interface;
Remote control.
特性
VCF 85 N processes your chemistry-free violet digital offset plates at a speed of 1.2 meters per minute.
The maximum width of the plates is 850 mm (33.5 inch).
Fully automated top up, based on square meter measurement
Automatic container alarm
Emergency stop
World-wide electrically configurable
技术规格
VCF 85 N
Plates

Plate type
Chemistry-free photopolymer offset plates: N95-VCF, Azura V
Plate width, min.-max.
200-850 mm (7.9-33.5")
Plate length, min.
275 mm (10.9")
Plate thickness, min.-max.
0.15-0.30 mm (0.006-0.012")
Platesetters
Advantage N, Polaris

Performance

Plate speed
40-120 cm/min
Plate volume
Scrub roller speed
150 rpm

Mechanical Specifications

Temperatures

Preheat: 0-150 °C (122-302 °F)
Gum 1: 20-27 °C (68-81 °F)
Gum 2: room temperature
Dryer, Process: 35-55 °C (95-131 °F)

Tank volumes

Gum 1: 40 lit. (10.6 US gal.)
Gum 2: Open system (back to bottle)

Noise emission (max.)
< 70 dB

Physical Specifications

Dimensions (w x l x h)
1430mm (56.3") x 1500mm (59.0") x 1000-1160mm (39.4-45.6")
Weight crated

Crated: 530 kg (1168 lb)
Empty unit: 390 kg (860 lb)
Filled unit: 427 kg (941 lb)

Electrical Specifications

Europe
3-phase, 3W+N+PE, 400VAC/14Amp / 50/60 Hz
USA and Japan
3-phase, 3W+PE, 208-230VAC/23Amp / 50/60 Hz
Voltage tolerances (all)
+/- 10%
Power consumption (EUR/USA/JAP)

Stand-by: 100 Watt-hour (342 BTU)
Maximum: 5500 Watt-hour (17160 BTU)