SPIR@L
Agfa's new and patented print screening technology, SPIR@L, takes its ECO³ solutions to the next level. How? It's simple: we replaced the traditional ink dot used in offset printing with a more efficient shape, such as a spiral. The result is a crystal-clear image every time without effort.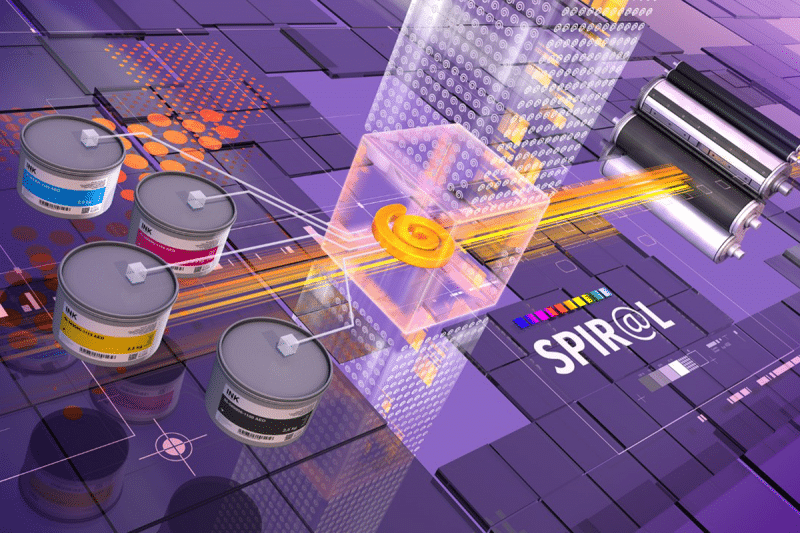 A new quality standard in newspaper printing
SPIR@L is Agfa's latest patented screening technology. Based on the fundaments of Sublima screening, it allows you to hold a 1-99% dot. The result is striking image quality with reduced image slur. It doesn't break the bank either: SPIR@L requires zero expensive upgrades for your CTP or printing press.
ECO³
SPIR@L is perfectly in line with our ECO3 program for sustainable innovation, saving you ink during the printing process. In designing and creating solutions based on hardware, software and consumables, we focus on achieving three success factors: ecology, economy, and extra convenience (ECO³). The aim is to make your prepress and printing operations cleaner, more cost-effective and easier to manage and maintain. Our ultimate goal? To generate more value for your entire business!
Achieve picture-perfect detail at any image size
Eliminate imperfections such as image slur
Increased printing speed
Compatible with both heat-set and cold-set printers
特性
Picture-perfect print quality
Get the highest image quality in the finest detail and the most vibrant colors, every time. With SPIR@L, you never have to compromise on quality.
Improved production speed
With SPIR@L, presses can run faster without spraying the ink. This improves productivity while significantly reducing both cost and energy consumption. SPIR@L sets a new speed standard in newspaper printing!
技术原理
SPIR@L starts with a modified minimum ink dot, applied in a specific and patented spiral shape. Thanks to its smooth transition from positive to negative spirals and minimum white gap, the end result is always a high-quality image in vibrant colors. You can set up SPIR@L according to your preferences: different curves and groove area thicknesses can be selected depending on the press and paper used to achieve the high quality print at lowest possible cost.
SPIR@L is only available as a partnership license on Apogee Prepress and Arkitex Grafix RIP and requires Agfa plates.