N94-V
N94-V is a photopolymer offset plate for the newspaper industry. Thanks to its UV-ink printing capabilities, N94-V opens up new possibilities for semi-commercial printing applications.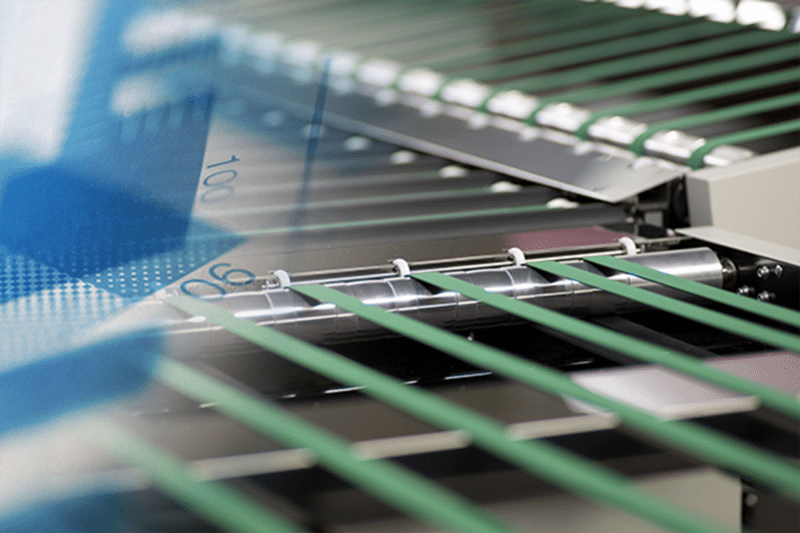 N94-V has arrived and the newspaper industry will never be the same. These photopolymer offset plates address the exact demands of today's newspaper printers. N94-V is sensitized for visible lasers emitting at 405 nm, which brings enhanced imaging and processing latitude.
While newspapers often are printed at night, printing engines don't sleep during daytime. Semi-commercial printing is necessary in the newspaper industry, for a bigger return on investment. N94-V is fit for the job, thanks to its UV-ink printing capabilities.
Compatible with high-speed violet newspaper engines
Improved image quality and working latitude (pre-heat and on-press)
Run length of over 300,000
Most robust photopolymer plate on the market
Suitable for use with metallic and UV inks
特性
Violet-Laser Imaging
Low cost of ownership, extremely long lifespan and absolute reliability. These are a few of the ways in which violet-diode plate setters excel. N94-V is yet more proof of the lasting success of violet CtP. With its optimized photo-layer and improved substrate characteristics, N94-V sets new standards of photopolymer plate technology for violet laser imaging.
Fast exposure and Proven Plate Processing
Simple processing and robustness, combined with fast, accurate and wide-latitude plate exposure: N94-V does it all. This plate is processed in the standard way: pre-heat (image amplification) is followed by overcoat wash-off. Subsequently, the image is developed and the plate is washed and gummed.
Durable Substrate Giving High On-press Performance
Advanced electrochemical graining and anodizing yield the reliability and robustness needed on a newspaper press and the durability required to cope with even the longest press runs. The plate is UV ink compatible, which makes it the perfect choice for applications which are semi-newspaper and semi-commercial. In short, N94-V provides a solid foundation for consistent press performance.
技术规格
Plate characteristics

Plate type
Negative-working, violet laser offset plate
Substrate
High-quality grained and anodized aluminum
Spectral sensitivity
400-410 nm (violet-laser diode)
Practical sensitivity
35 µJ/cm²
Platesetter compatiblity
Compatible with most violet plate setters with laser power of 30 mW and higher
Image contrast
Excellent. Can be measured with all available densitometers and plate readers
Plate sizes
All newspaper sizes, single and broadsheets
Resolution (depending on platesetter)

ABS: 2-96% at 110 lpi at 1270 dpi
Sublima: 1-99% at 180 lpi at 1270 dpi

Gauges
0.30 – 0.35 – 0.40 mm (0.012 – 0.014 – 0.016 inch)
Run length
Up to 350,000 (baked: 500,000, 100,000 with UV inks) dependent on press conditions

Processing

Developer
PL10
Replenisher
PL10Ri
Replenishment rate
75 ml/m²
Bath life
Up to 6 weeks (up to 1800 m²)
Processor

Compatible with most polymer processors
Agfa: VPP 85, VXP 85 and/or VXXP 85

Processor speed
Up to 2.5 m/min.

Environment

Room lighting
yellow
Room conditions (T, RH)
18-24 °C (64-75 °F), < 70% RH
Storage conditions
Below 32 °C (90 °F), < 70% RH
Gums
Unifin
RC795
Baking gum: RC510
Plate Correction pen (for unbaked plates)
Polymer deletion pen
Plate Cleaner
Standard: ANTURA CtP Plate Cleaner
Low-VOC/NON-VOC: ANTURA Low-VOC Plate Cleaner
Cleaning gum: ANTURA CleanGum
Fountain Solutions
Sheetfed: Prima FS404 AS(H)
Sheetfed: ANTURA fount AFS(H)1
Rehardener: RC611
Coldset: ANTURA Fount CS(H)1
Heatset: ANTURA fount (H)700
Heatset: Prima FS909 AF(H) web
Sheetfed: Prima FS808 AF
Roller and blanket washes
Xtrawash Plus 40&60
Hydrowash Roto (Heatset)
Pressroom starter packs
Standard: NP starters pack
Hard water: NP starters pack hard water