Avinci DX3200
A dedicated 3.2-meter soft signage roll-to-roll printer, Avinci DX3200 produces remarkable print quality and vibrant colors up to 123 m²/hr. for both in- and outdoor applications.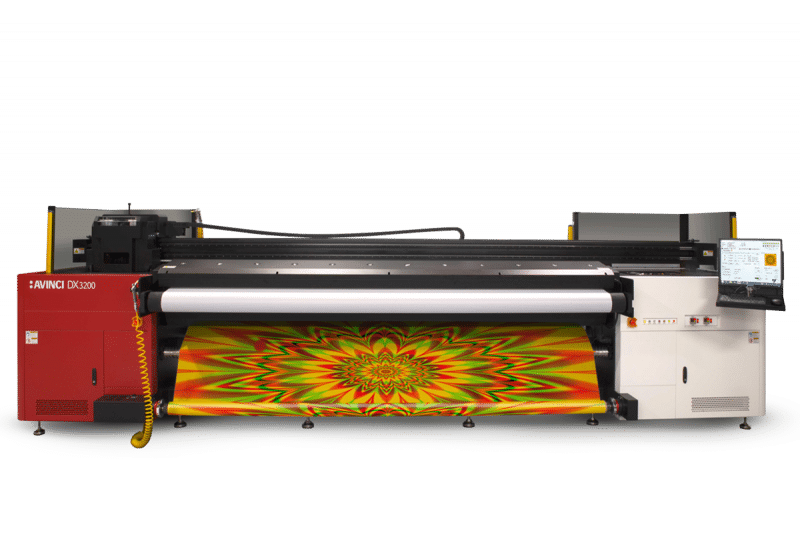 Meet Avinci DX3200 – Agfa's dedicated soft signage dye sublimation roll-to-roll printer. It brings remarkable print quality to a wide range of in- and outdoor soft signage applications such as banners, indoor wall graphics, shop decoration, outdoor advertising, trade show displays and more. You name it, Avinci is up to the challenge.
This advanced soft signage printer is the result of carefully selected features and benefits that combine into one highly productive unit, ready to generate stunning prints that stand out. Large-format printing up to 3.2 m wide, low ink consumption, 6 colors (CMYKLcLm), a resolution up to 540 x 1080 dpi – the Avinci DX3200 has it all.
Large-format soft signage applications up to 3.2 m wide.
High productivity and a robust design for reliable printing.
Low ink consumption yet excellent print quality in both text and images.
6 colors (CMYKLcLm) for vibrant prints and a wide color gamut.
Fine detail rendering with a resolution up to 540 x 1080 dpi.
A wide range of polyester-based applications and outstanding print-through on flags.
User-friendly and cost-effective, including a smart wind-up system in every speed mode.
Off-line calendering to ensure perfect fixation.
Powered by Asanti workflow software and integrable with cloud service PrintSphere.
特性
Soft signage – a powerful choice
Soft signage is rapidly becoming the preferred solution for many businesses that demand high-quality marketing and display material. And with good reason: it's user-friendly and cost-effective. Soft signage print results are lighter and easier to transport and install.
The Avinci DX3200 allows you to create large-format, soft signage prints of up to 3.2 m wide with a maximum resolution of 540 x 1080 dpi. Through the process of dye sublimation, this unit prints directly onto your fabrics. The result? An efficient printing process and extremely vivid prints.
Excellent print quality, low ink consumption
Avinci produces premium results with a minimum of jetted ink volume and waste production. The engine ensures the printing of perfect solids and outstanding tonal rendering with six different colors (CMYKlclm) – a rich color gamut that is particularly noticeable in skin tones, for example.
Speedy and precise media feeding
Depending on your requirements and applications, Avinci can manage several print modes, with a speed of up to 123 m2/h. Featuring a soft signage-dedicated media transport system, the Avinci engine ensures precise and easy feeding of all media, as well as the perfect wind-up of the print result.
Off-line calendering
The calendering process in soft signage printing efficiently fixes the colors to the fabric while evaporating the water. If you opt for Avinci, this unit is part of a separate process and your printer will be spared from any mess or damage caused by the sublimation phase.
Driven by Asanti workflow
Handling the Avinci DX3200's print process from a to z, Asanti workflow technology optimizes, simplifies and automates prepress, production and finishing steps to make productivity the priority. Asanti seamlessly integrates file handling, color management and preflighting for error- and stress-free job management.
技术规格
Media & printing specifications

Flexible media
Max print width
Single roll = 3.20 m (126.0")
Max roll width
Single roll = 3.26 m (128.5")
Maximum length
>100 m length (also depends on the thickness and total roll weight)
Max media thickness
Max. 5 mm (0.19")
Maximum weight
Single roll = 100 kg (220 lbs)
Maximum roll outside diameter
360 mm (14.2")
Roll mounting
Pneumatic shafts for core diameter 7.62 cm – 3" (standard)
Media skew
Max. 2 mm on 10 m printing
Borderless printing flexible media
Single roll = up to 3.2 m (126")
Media transportation
Pre-heater, dancer bars and print plate suction for roll-to-roll

Productivity

Open fabric: in-& outdoor flags
28 to 123 m2/h (301 to 1324 ft2/h)
Closed fabric: displays
28 to 123 m2/h (301 to 1324 ft2/h)
Closed fabric with diffusion layer: backlit displays
28 to 40 m2/h (301 to 460 ft2/h)

Media

Media types
Polyester-based applications such as posters, banners, indoor wall graphics, shop decoration, outdoor advertising, trade show displays, and flags

Print heads & inks

Print heads
Piezoelectric Konica Minolta 1024i
Ink
CMYKLcLm
Ink system maintenance
Automatic

Image & text quality

Image quality
Resolution up to 540 x 1080 dpi in high definition

Engine dimensions & weight

Printer dimensions & weight
(W x D x H)
6190 mm x 1600 mm x 1780 mm

243" x 63" x 70"

1650 kg (3638 lbs)

Crate dimensions & weight
(W x D X H)
6490 mm x 1840 mm x 2160 mm
256" x 73" x 85"2650 kg (5842 lbs)

Room conditions

Temperature
20°C-25°C
Relative humidity
40-80%

Electricity & compressed air

Electricity
Engine: single phase
220-240 VAC (50/60 Hz) 12A (Fuse 16A)Dryer: single phase
220-240 VAC (50/60 Hz) 30A (Fuse 32A)
Compressed air
Dry and oil-free (Class 1 according to ISO 8573-1 2010) 200 l/min – 6 Bar

System integration RIP/workflow software

Asanti, PrintSphere, third-party rips