Avalon N VLF (16 to 48-up)
The Avalon N range of thermal VLF (Very Large Format) computer-to-plate engines are star performers in quality- and efficiency-driven plate production. They will handle any plate size from 16 to 48-up.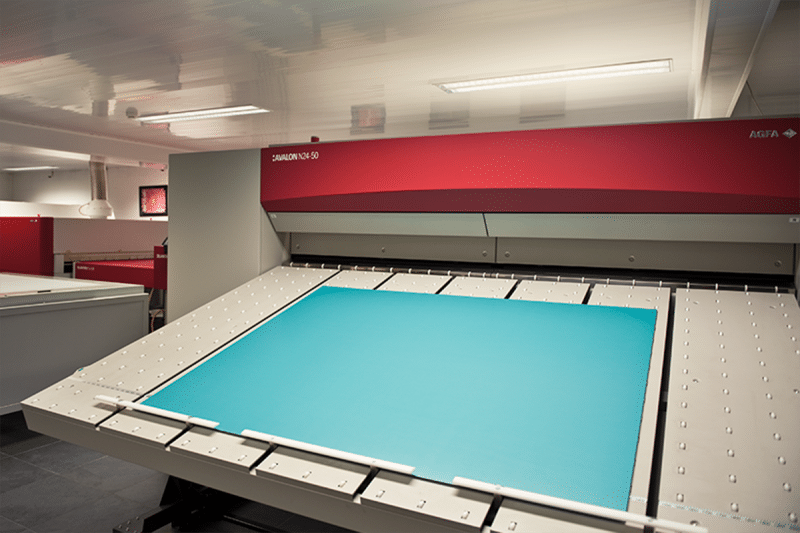 Unlock the full potential of your commercial printing business with the Avalon N VLF computer-to-plate (CtP) engines. Handling plates of up to 2900 x 1350 mm, and achieving a maximum throughput speed of 70 B1 pph, these thermal platesetters are unique among their kind and prove themselves in productivity and flexibility. Simply select the engine that suits your needs in terms of plate size, throughput speed and features, and start boosting your business.
The Avalon N VLF series comes in different levels of automation to match your preferred workflow and available floor space, yet consistently offers prime imaging quality. All platesetters are equipped with Grating Light Valve (GLV) imaging technology, enabling the spotless transfer of your digital creations directly onto the printing plate.
Boasting years of experience in very large format printing, Agfa is the ideal partner to help commercial and packaging printing companies accomplish advanced process efficiency and automation, as well as cost control, in their prepress department. We even offer a CtP engine that handles plates up to 2900 mm wide for the largest-sized presses – the Avalon N48.
VLF external drum thermal platesetters featuring proven technology and consistent output quality with imaging resolutions up to 340 lpi Sublima
Throughput speed of up to 70 B1 pph, depending on model, plate type, and plate size
Upgradable engines featuring press punching and exceptional registration accuracy
Multiple automation options, such as a multi-cassette loader, a skid loader, and robotic plate loading
Integration with Agfa 's Apogee prepress workflow solution
特性
Industry-leading productivity
Thanks to their advanced GLV technology and dual plate imaging, Avalon N VLF engines offer best-in-class productivity and throughput speed. Combine them with the Energy Elite Eco printing plate, for example, to produce no fewer than 70 B1 plates per hour and still deliver premium-quality results.
More productivity-increasing options include dual plate loading and twin imaging, depending on the model. Most of the engines can also be upgraded with both a multi-cassette loader and a pallet loader.
Plate loading of the Avalon N36 and N40 models can be automated using a custom-made plate loading robot.
Press punching
For those who need an extra-powerful productivity boost, there is a press punching system available for Avalon N VLF engines, significantly shortening make-ready time. By adding optional press punch blocks, imaged plates can be loaded straight onto presses with different punching, increasing make-ready efficiency.
Advanced integration
Agfa has considered each element that affects CtP efficiency when integrating the Avalon N series. The engine is an important link in the plate production chain, but it comes together with the plates, the plate processing, the digital workflow, screening and other additional software utilities.
We will assist you in making the right technology decisions when creating a customized CtP solution.
Premium imaging quality
Avalon N VLF platesetters yield consistent, first-rate imaging quality of up to 340 lpi Sublima. All models are equipped with GLV technology for precise imaging, exceptional tonal accuracy and uniformity from job to job. So, whether you opt for a mid- or full-size engine, expect Avalon's trademark excellence.
技术规格
型号

N16-90 E

成像系统
GLV 512光束
激光类型
830 nm热敏激光管
结构
外鼓式
双加载
不适用
双显影
不适用
冲压
最多5个单元

解像度

1200 dpi
支持
2400 dpi
支持
2540 dpi
支持
4000 dpi
不适用
4800 dpi
不适用

印版装卸配置

手动加载
支持
半手动加载
不适用
自动(自动上版机)
支持
托盘装载机
不适用
手动卸载
支持
在线卸载
支持

生产力

取决于印版尺寸
1030 mm(40.5 in): 22 张/小时
1448 mm (57 in): 17 张/小时

印版特性

最大 印版尺寸(鼓轴向x鼓周向)
*双加载
1470 mm x 1180 mm (57.9″ x 46.5″)
最小印版尺寸(鼓轴向x鼓周向)
*双加载
650 mm x 550 mm (25.6″ x 21.7″)
450 mm x 370 mm (17.7″ x 14.6″)
*不得使用宽度在570 mm ~ 624mm之间的版材(尺寸限制)
厚度
0.2 mm-0.4 mm
*0.15 mm厚的版只能用于450 mm x370 mm的可选最小尺寸;0.4 mm厚的版只可在尺寸大于1030 mm x 770 mm时使用
最大曝光尺寸
1470 mm x 1169 mm (57.9″ x 46.0″)
型号

N16-90 S

成像系统
GLV 512光束
激光类型
830 nm热敏激光管
结构
外鼓式
双加载
不适用
双显影
不适用
冲压
可选,最多5个单元

解像度

1200 dpi
支持
2400 dpi
支持
2540 dpi
支持
4000 dpi
不适用
4800 dpi
不适用

印版装卸配置

手动装载
支持
半手动装载
不适用
自动(自动上版机)
支持
托盘装载机
不适用
手动卸载
支持
在线卸载/td>
支持

生产力

取决于印版宽度
1030 mm (40.5 in): 37 张/小时
1448 mm (57 in): 29 张/小时

印版特性

最大印版尺寸(鼓轴向x鼓周向)
*双加载
1470 mm x 1180 mm (57.9″ x 46.5″)
最小印版尺寸(鼓轴向x鼓周向)
*双加载
650 mm x 550 mm (25.6″ x 21.7″)
450 mm x 370 mm (17.7″ x 14.6″)
*不得使用宽度在570 mm ~ 624mm之间的版材(尺寸限制)
厚度
0.2 mm-0.4 mm
*0.15 mm厚的版只能用于450 mm x370 mm的可选最小尺寸;0.4 mm厚的版只可在尺寸大于1030 mm x 770 mm时使用
最大曝光尺寸
1470 mm x 1169 mm (57.9″ x 46.0″)
型号

N16-90 XT

成像系统
GLV 1024光束
激光类型
830 nm热敏激光管
结构
外鼓式
双加载
不适用
双显影
不适用
冲压
可选,最多5个单元

解像度

1200 dpi
支持
2400 dpi
支持
2540 dpi
支持
4000 dpi
不适用
4800 dpi
不适用

印版装卸配置

手动装载
支持
半手动装载
不适用
自动(自动上版机)
支持
托盘装载机
不适用
手动卸载
支持
在线卸载/td>
支持

生产力

取决于印版宽度
1030 mm (40.5 in): 46 张/小时
1448 mm (57 in): 42 张/小时

印版特性

最大印版尺寸(鼓轴向x鼓周向)
*双加载
1470 mm x 1180 mm (57.9″ x 46.5″)
最小印版尺寸(鼓轴向x鼓周向)
*双加载
650 mm x 550 mm (25.6″ x 21.7″)
450 mm x 370 mm (17.7″ x 14.6″)
*不得使用宽度在570 mm ~ 624mm之间的版材(尺寸限制)
厚度
0.2 mm-0.4 mm
*0.15 mm厚的版只能用于450 mm x370 mm的可选最小尺寸;0.4 mm厚的版只可在尺寸大于1030 mm x 770 mm时使用
最大曝光尺寸
1470 mm x 1169 mm (57.9″ x 46.0″)
型号

N24-90 S

成像系统
GLV 512光束
激光类型
830 nm热敏激光管
结构
外鼓式
双加载
不适用
双显影
不适用
冲压
可选,最多6个单元

解像度

1200 dpi
支持
2400 dpi
支持
2540 dpi
支持
4000 dpi
不适用
4800 dpi
不适用

印版装卸配置

手动装载
支持
半手动装载
支持
自动(自动上版机)
支持
托盘装载机
支持
手动卸载
支持
在线卸载/td>
支持

生产力

取决于印版宽度
1030 mm (40.5 in): 34 张/小时
1448 mm (57 in): 27 张/小时

印版特性

最大印版尺寸(鼓轴向x鼓周向)
*双加载
1652 mm x 1325 mm (65.0″ x 52.2″)
最小印版尺寸(鼓轴向x鼓周向)
*双加载
650 mm x 490 mm (25.6″ x 19.3″)
厚度
0.2 mm-0.4 mm
*0.4 mm厚的版只可在尺寸大于900 mm x 770 mm时使用
最大曝光尺寸
1652 mm x 1313 mm (65.0″ x 51.7″)
型号

N24-90 XT

成像系统
GLV 1024光束
激光类型
830 nm热敏激光管
结构
外鼓式
双加载
不适用
双显影
不适用
冲压
可选,最多6个单元

解像度

1200 dpi
支持
2400 dpi
支持
2540 dpi
支持
4000 dpi
不适用
4800 dpi
不适用

印版装卸配置

手动装载
支持
半手动装载
支持
自动(自动上版机)
支持
托盘装载机
支持
手动卸载
支持
在线卸载/td>
支持

生产力

取决于印版宽度
1030 mm (40.5 in): 46 张/小时
1448 mm (57 in): 39 张/小时

印版特性

最大印版尺寸(鼓轴向x鼓周向)
*双加载
1652 mm x 1325 mm (65.0″ x 52.2″)
最小印版尺寸(鼓轴向x鼓周向)
*双加载
650 mm x 490 mm (25.6″ x 19.3″)
厚度
0.2 mm-0.4 mm
*0.4 mm厚的版只可在尺寸大于900 mm x 770 mm时使用
最大曝光尺寸
1652 mm x 1313 mm (65.0″ x 51.7″)
型号

N36-50 SD

成像系统
GLV 512光束
激光类型
830 nm热敏激光管
结构
外鼓式
双加载
支持
双显影
不适用
冲压
可选,最多5个单元

解像度

1200 dpi
不适用
2400 dpi
支持
2540 dpi
不适用
4000 dpi
不适用
4800 dpi
不适用

印版装卸配置

手动装载
不适用
半手动装载
支持
自动(自动上版机)
支持
托盘装载机
支持
手动卸载
支持
在线卸载/td>
支持

生产力

取决于印版宽度
1030 mm (40.5 in): 36 张/小时
2032 mm (80 in): 19 张/小时

印版特性

最大印版尺寸(鼓轴向x鼓周向)
*双加载
2100 mm x 1600 mm (82.6″ x 62.9″)
*1060 mm x 1600 mm (41,7" x 63")
最小印版尺寸(鼓轴向x鼓周向)
*双加载
650 mm x 550 mm (25.6″ x 21.7″)
*工厂选项 500 mm x 550 mm (19.7″ x 21.7″)
厚度
0.2 mm – 0.4 mm
*0.5 mm 可选
最大曝光尺寸
*双加载
2100 mm x 1585 mm (82.6″ x 62.4″)
*1060 mm x 1585 (41.7" x 62.4")
型号

N36-50 XT

成像系统
GLV 512光束
激光类型
830 nm热敏激光管
结构
外鼓式
双加载
支持
双显影
支持
冲压
可选,最多5个单元

解像度

1200 dpi
不适用
2400 dpi
支持
2540 dpi
不适用
4000 dpi
不适用
4800 dpi
不适用

印版装卸配置

手动装载
不适用
半手动装载
支持
自动(自动上版机)
支持
托盘装载机
支持
手动卸载
支持
在线卸载/td>
支持

生产力

取决于印版宽度
1030 mm (40.5 in): 58 张/小时
2032 mm (80 in): 19 张/小时

印版特性

最大印版尺寸(鼓轴向x鼓周向)
2100 mm x 1600 mm (82.6″ x 62.9″)
最小印版尺寸(鼓轴向x鼓周向)
*双加载
650 mm x 550 mm (25.6″ x 21.7″)
*工厂选项 500 mm x 550 mm (19.7″ x 21.7″)
厚度
0.2 mm – 0.4 mm
*0.5 mm 可选
最大曝光尺寸
*双加载
2100 mm x 1585 mm (82.6″ x 62.4″)
型号

N36-70 SD

成像系统
GLV 1024光束
激光类型
830 nm热敏激光管
结构
外鼓式
双加载
支持
双显影
不适用
冲压
可选,最多5个单元

解像度

1200 dpi
不适用
2400 dpi
支持
2540 dpi
不适用
4000 dpi
不适用
4800 dpi
不适用

印版装卸配置

手动装载
不适用
半手动装载
支持
自动(自动上版机)
支持
托盘装载机
支持
手动卸载
支持
在线卸载/td>
支持

生产力

取决于印版宽度
1030 mm (40.5 in): 44 张/小时
2032 mm (80 in): 23 张/小时

印版特性

最大印版尺寸(鼓轴向x鼓周向)
*双加载
2100 mm x 1600 mm (82.6″ x 62.9″)
*1060 mm x 1600 mm (41,7" x 63")
最小印版尺寸(鼓轴向x鼓周向)
*双加载
650 mm x 550 mm (25.6″ x 21.7″)
*工厂选项 500 mm x 550 mm (19.7″ x 21.7″)
厚度
0.2 mm – 0.4 mm
*0.5 mm 可选
最大曝光尺寸
*双加载
2100 mm x 1585 mm (82.6″ x 62.4″)
*1060 mm x 1585 (41.7" x 62.4")
型号

N36-70 XT

成像系统
GLV 1024光束
激光类型
830 nm热敏激光管
结构
外鼓式
双加载
支持
双显影
支持
冲压
可选,最多5个单元

解像度

1200 dpi
不适用
2400 dpi
支持
2540 dpi
不适用
4000 dpi
不适用
4800 dpi
不适用

印版装卸配置

手动装载
不适用
半手动装载
支持
自动(自动上版机)
支持
托盘装载机
支持
手动卸载
支持
在线卸载/td>
支持

生产力

取决于印版宽度
1030 mm (40.5 in): 70 张/小时
2032 mm (80 in): 33 张/小时

印版特性

最大印版尺寸(鼓轴向x鼓周向)
*双加载
2100 mm x 1600 mm (82.6″ x 62.9″)
最小印版尺寸(鼓轴向x鼓周向)
*双加载
650 mm x 550 mm (25.6″ x 21.7″)
*工厂选项 500 mm x 550 mm (19.7″ x 21.7″)
厚度
0.2 mm – 0.4 mm
*0.5 mm 可选
最大曝光尺寸
*双加载
2100 mm x 1585 mm (82.6″ x 62.4″)
型号

N40-50 SD

成像系统
GLV 512光束
激光类型
830 nm热敏激光管
结构
外鼓式
双加载
支持
双显影
不适用
冲压
可选,最多5个单元

解像度

1200 dpi
不适用
2400 dpi
支持
2540 dpi
不适用
4000 dpi
不适用
4800 dpi
不适用

印版装卸配置

手动装载
不适用
半手动装载
支持
自动(自动上版机)
支持
托盘装载机
支持
手动卸载
支持
在线卸载/td>
支持

生产力

取决于印版宽度
1030 mm (40.5 in): 36 张/小时
2280 mm (90 in): 17 张/小时

印版特性

最大印版尺寸(鼓轴向x鼓周向)
*双加载
2280 mm x 1600 mm (89.7″ x 62.9″)
*1060 mm x 1600 mm (41,7" x 63")
最小印版尺寸(鼓轴向x鼓周向)
*双加载
650 mm x 550 mm (25.6″ x 21.7″)
*工厂选项 500 mm x 550 mm (19.7″ x 21.7″)
厚度
0.2 mm – 0.4 mm
*0.5 mm 可选
最大曝光尺寸
*双加载
2280 mm x 1588 mm (89.7″ x 62.5″)
*1060 mm x 1588 mm (41.7" x 62.5")
型号

N40-70 SD

成像系统
GLV 1024光束
激光类型
830 nm热敏激光管
结构
外鼓式
双加载
支持
双显影
不适用
冲压
可选,最多5个单元

解像度

1200 dpi
不适用
2400 dpi
支持
2540 dpi
不适用
4000 dpi
不适用
4800 dpi
不适用

印版装卸配置

手动装载
不适用
半手动装载
支持
自动(自动上版机)
支持
托盘装载机
支持
手动卸载
支持
在线卸载/td>
支持

生产力

取决于印版宽度
1030 mm (40.5 in): 44 张/小时
2280 mm (90 in): 22 张/小时

印版特性

最大印版尺寸(鼓轴向x鼓周向)
*双加载
2280 mm x 1600 mm (89.7″ x 62.9″)
*1060 mm x 1600 mm (41,7" x 63")
最小印版尺寸(鼓轴向x鼓周向)
*双加载
650 mm x 550 mm (25.6″ x 21.7″)
*工厂选项 500 mm x 550 mm (19.7″ x 21.7″)
厚度
0.2 mm – 0.4 mm
*0.5 mm 可选
最大曝光尺寸
*双加载
2280 mm x 1588 mm (89.7″ x 62.5″)
*1060 mm x 1588 mm (41.7" x 62.5")
型号

N48-50 SD

成像系统
GLV 512光束
激光类型
830 nm热敏激光管
结构
外鼓式
双加载
支持
双显影
不适用
冲压
可选,最多5个单元

解像度

1200 dpi
不适用
2400 dpi
支持
2540 dpi
支持
4000 dpi
不适用
4800 dpi
不适用

印版装卸配置

手动装载
不适用
半手动装载
支持
自动(自动上版机)
支持
托盘装载机
支持
手动卸载
支持
在线卸载/td>
支持

生产力

取决于印版宽度
1030 mm (40.5 in): 34 张/小时
2900 mm (114.7 in): 14 张/小时

印版特性

最大印版尺寸(鼓轴向x鼓周向)
*双加载
2900 mm x 1350 mm (114.1″ x 53.1″)
*1450 x 1350 mm (57.0" x 53.1")
最小印版尺寸(鼓轴向x鼓周向)
*双加载
1451 mm x 550 mm(57.1″x21.6″)
*650 mm x 550 mm (25.6″ x 21.7″)
厚度
0.2 mm – 0.4 mm
*0.5 mm 可选
最大曝光尺寸
*双加载
2900 mm x 1335 mm (114.1″x52.5″)
*1450 mm x 1335 mm (57.0" x 52.5")
型号

N48-70 SD

成像系统
GLV 1024光束
激光类型
830 nm热敏激光管
结构
外鼓式
双加载
支持
双显影
不适用
冲压
可选,最多5个单元

解像度

1200 dpi
不适用
2400 dpi
支持
2540 dpi
支持
4000 dpi
不适用
4800 dpi
不适用

印版装卸配置

手动装载
不适用
半手动装载
支持
自动(自动上版机)
支持
托盘装载机
支持
手动卸载
支持
在线卸载/td>
支持

生产力

取决于印版宽度
1030 mm (40.5 in): 42 张/小时
2900 mm (114.7 in): 17 张/小时

印版特性

最大印版尺寸(鼓轴向x鼓周向)
*双加载
2900 mm x 1350 mm (114.1″ x 53.1″)
*1450 x 1350 mm (57.0" x 53.1")
最小印版尺寸(鼓轴向x鼓周向)
*双加载
1451 mm x 550 mm (57.1″x21.6″)
*650 mm x 550 mm (25.6″ x 21.7″)
厚度
0.2 mm – 0.4 mm
*0.5 mm 可选
最大曝光尺寸
*双加载
2900 mm x 1335 mm (114.1″x52.5″)
*1450 mm x 1335 mm (57.0" x 52.5")