Asanti StoreFront
As a cloud-based web-to-print solution that enables print buyers to place orders online 24/7, Asanti StoreFront will help you expand your customer base and increase your revenue in no time.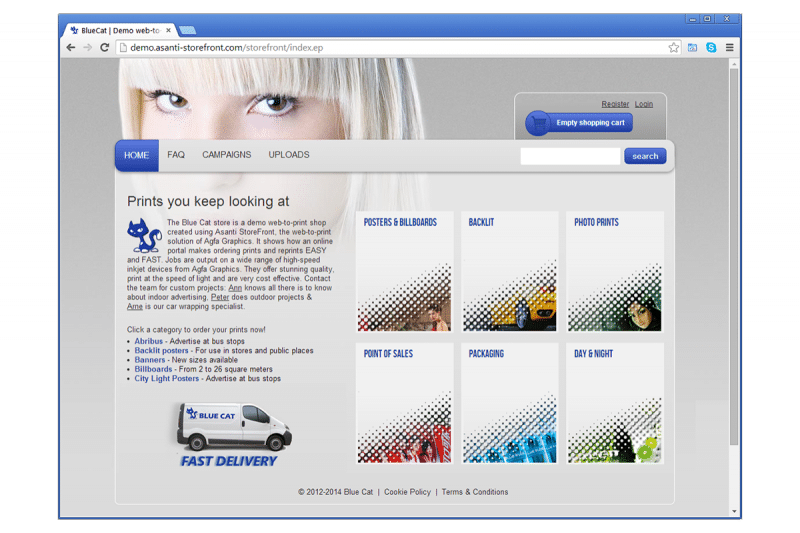 Setting up and managing well-designed, customer-friendly online stores to sell your print and non-print products – that's what Asanti StoreFront is about. Although it mainly focuses on B2B sign & display markets, Asanti StoreFront can just as easily be used to set up online stores targeting the general public.
Extend your geographic reach and expand your customer base – this advanced e-commerce solution enables print buyers to place orders online 24/7 at the click of a mouse. No need to invest in any additional technology or personnel; this software as a service (SaaS) streamlines your workflow automatically.
Offer customers a wide range of print applications, on demand or from stock. Even more, Asanti StoreFront's integrated Online Editor makes it as easy as pie for print buyers to personalize their orders. Even non-print products such as pens and digital goods can be offered as part of your service.
Expand your customer base by setting up intuitive, mobile responsive online stores.
Software-as-a-service solution that requires no investments in hardware or software.
Allows your customers to easily customize their products.
Get instant feedback and information on the status of orders.
Seamless integration with Asanti workflow software: save time and increase productivity.
Automated preflight check for the validation of uploaded files.
特性
Streamline your workflow
Asanti StoreFront is a cloud-based solution, which means there's no need to invest in servers, software, database applications or an expensive symmetrical internet connection. What's more, it considerably speeds up your time to market. Online orders are automatically downloaded and processed by the Asanti workflow software, for a perfectly streamlined and efficient data flow.
Multiple easy-to-manage stores
Create multiple online shops, each targeting a specific customer or market, or offering a certain type of product. Get that competitive advantage by opting for the cost-effective solution that is Asanti StoreFront.
Managing your shops, maintaining an overview of your product offerings, keeping track of orders – with just one glance at Asanti StoreFront's intuitive dashboard, you'll be up-to-date. As it's extremely easy to work with, there are no extra staff investments needed.
Powerful Online Editor
Asanti StoreFront's Online Editor enables print buyers to customize printed products online. While the occasional user only needs to enter a few lines of text to create the weekly sales promotion poster, frequent buyers will be delighted by the advanced editing features for adapting point-of-sales displays or other visually rich prints.
Shipping costs per square meter
Accurate pricing is crucial in today's competitive print market. That's why product and shipping costs are now based on the dimensions of customers' products, decreasing as orders grow bigger. Even the pricing of options such as grommets or varnish are dimension-based. Asanti StoreFront automatically groups different order items together to optimize packaging.
New feature 'Save For Quote'
Thanks to an added functionality called 'Save For Quote', customers such as resellers and agencies now immediately see the total cost for a range of products, including shipping,. Consequently, simple sales proposals no longer need human intervention and sales representatives can focus on customer satisfaction and offering value.
更多特性
Stores use a responsive design to work on phones as well as large monitors.
Industry standard file formats such as TIFF, JPG, PDF and JDF for an optimal data flow.
Support for multiple languages, currencies and online payment methods.
Integrated preflight engine for the validation of uploaded files.
Add a purchase and/or content approval step to the ordering process.
Keep track of your stock through automatic notifications.
Repurpose Adobe InDesign documents using a plugin.
Optional variable data processing (VDP) module.
技术规格
Types of products
Uploadable: the buyer supplies a file.
Customizable: the buyer edits a template.
Variable data: the buyer uploads an Excel spreadsheet to personalize documents.
On demand: the product is printed upon purchase.
From stock: the print or non-print product is delivered from the warehouse.
Digital: the buyer downloads the purchased file.
Kit: several products are bundled into a single offering.
Supported browsers for print buyers
Chrome 54 or higher, Edge 14 or higher, Firefox 50 or higher, Internet Explorer 11 or higher, Safari 9 or higher. To personalize documents, the browser needs to support Flash version 24 or higher.
Minimum bandwidth for print buyers
4 Mbit/s downstream & 1 Mbit/s upstream. A faster connection is recommended for working with large documents.
File formats
Print buyers can upload PDF, JPG, PNG and TIFF files.
For creating customizable documents, a StoreFront Converter plugin can be used to adapt existing Adobe InDesign CC files. The plugin supports the use of TrueType and OpenType fonts. It is available for both Mac and Windows.
Languages for print buyers
Czech, Danish, Dutch, English (USA and UK), Faroese, Finnish, French, German, Italian, Japanese, Norwegian, Polish, Portuguese (Brazil and Portugal), Russian, Spanish and Swedish.
Currencies
American Dollar, Argentinian Peso, Australian Dollar, Brazilian Real, British Pound, Canadian Dollar, Chilean Peso, Colombian Peso, Czech Koruna, Danish Krone, Euro, Hungarian Forint, Japanese Yen, Malaysian Ringgit, Mexican Peso, New Zealand Dollar, Norwegian Krone, Peruvian Nuevo Sol, Polish Zloty, Romanian Leu, Russian Ruble, Singapore Dollar, South African Rand, Swedish Krona, Swiss Franc.
Payment methods
PayPal Payments Pro Payflow Edition
Payment by bank transfer or check
Shipment tracking
Tracking is supported for Canada Post, Chronopost, DHL, DHL Germany, FedEx, Swiss Post, UPS, USPS and any tracking URL.
Real-time shipping quote is supported for
UPS